Some of the world's top technology leaders met with President Trump last week to talk about government modernization (does that qualify as an oxymoron?). It was the first meeting of his new American Technology Council designed to catch our government up with the private sector in terms of information technology and digital services delivery. The White House is leaning on these tech giants to help modernize government systems by consulting on and developing new solutions for the complex challenges that the government faces.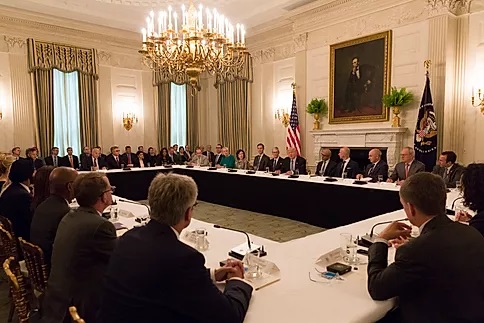 While the discussion topics touched on many areas of information technology including cloud computing, cybersecurity and procurement, of particular interest to a data center such as CyberOne Data was Jared Kushner's presentation of information about federal government agencies currently maintaining over 6,000 data centers, many of which he says can be consolidated. To further illustrate the government's technology lag, he also stated that some data systems are over 50 years old, bolstering the point by mentioning the pentagon's continued (and laughable) use of floppy disks in the year 2017. Seriously?
The point is, our federal government is seriously behind the curve. Consider our VA system, for example, that still doesn't serve our veterans in a timely manner, share electronic records between agencies or help prevent suicides the way they should (full disclosure: there is a new health initiative project in the works at least using DOE supercomptuers, but who knows how long before that data is turned into something meaningful and actionable).
Then there's the security of our government's computer systems and data. Russian hacking claims have been in the news for months upon months. Although there is a lot of controversy about the legitimacy of claims that Russia interfered with the election, whether that's true or not remains to be seen. It is evident, however, that there's tampering with the federal government's systems in general, whether it be from Russia, China or some other enemies of the state. There's an easy conclusion here: cybersecurity must be at the forefront of innovation.
I could cite example after example illustrating flaws of our federal government's information systems, but after all the whole point of last week's meeting was to engage and tap these pioneers' depth and breadth of knowledge. They must also realize that other constraints will surely stymie progress and politicians will require new thinking and innovative approaches to old problems. Business as usual – like agencies clashing over IT investments, improper allocation of budgets or ambiguity around spending authority – stand in the way.
There's real opportunity to transform and modernize our federal agencies, tapping into innovation, big data, and private industry (whom excel at what they do). Let's hope these tech giants put partisan politics to the side and focus on improving the lives of the American people by making our government more technologically advanced, efficient and effective at executing their mission.
But it shouldn't stop there. It should start there. There are thousands upon thousands of SMBs in the United States that can contribute to the modernization of our federal government's information technology systems, processes and function. SMBs are the economic engines of America. As a small business owner, I for one would like to be part of that transformation. So I say to Apple, Microsoft, Amazon and the rest of the "tech giants", lead the way, we are right behind you.