Businesses across the globe continue the migration from on-premise production environments to Office 365. So, what's the driving force behind the adoption? According to Gartner research, "Exchange Online was cited as the top driver of O365 adoption at 70%, followed by OneDrive for Business at 49% and SharePoint Online at 41%.

But with the continued migration comes a false sense of security. Organizations are still responsible for their data regardless of where it's stored. Ambiguity is evident when it comes to what O365 offers in terms of backup and disaster recovery. Businesses that use O365 must ask themselves if the native protection that's provided is sufficient for their needs. In many cases, the answer is likely no.

Let's look at the recovery capabilities of O365 and identify what's missing.

At the infrastructure and application level, Microsoft achieved between 99.98% and 99.99% availability in 2016. That translates to between 60 and 105 minutes of downtime annually. For most organizations, that is tolerable and likely contributes to the success O365 has seen year after year. This is known as high availability or HA. It is also part of the bigger picture known as DR or disaster recovery.

Drilling down further, however, is where the limitations begin to surface. User, file and mailbox level protection becomes limited and quirky when it comes to data retention and recovery capabilities. Recycle bins and version histories don't serve as true backups. File corruption, malware and accidental deletions are all common realities that are better addressed using third-party backup and recovery tools.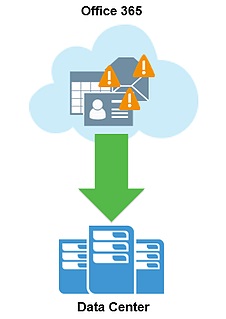 There are a variety of reasons that customers need to securely backup O365 email data back to their environment; financial requirements, productivity needs and compliance standards. And while O365 offers robust high availability and disaster recovery, it's missing adequate options to address file corruption, malicious software events and common user error.
Third-party O365 backup tools like Veeam Backup for Microsoft Office 365 provide recovery from internal threats and external attacks, as well as flexible and expanded policies including different backup retention periods.
If you're a former Microsoft Office organization (now on O365) that utilized on-premise backup solutions, consider adopting a third-party O365 backup solution to protect your business data. Being accustomed to robust capabilities with an on-premise solution means substituting something commensurate in the O365 platform. Just don't wait until its too late, mitigate your risk now.