On Thursday, September 7th, CyberOne Data made it's early 2017 summer opening official with a local ribbon cutting ceremony attended by local businesses, elected officials, customers, family and friends.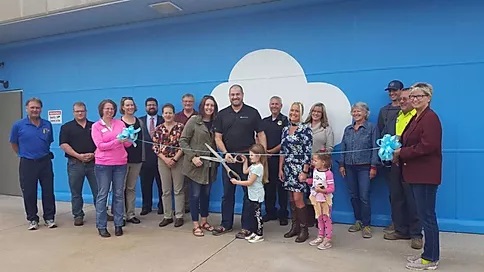 Working with the Heart of Wisconsin Chamber of Commerce, the Central Wisconsin Regional Growth Initiative and the Wisconsin Economic Development Corporation, CyberOne Data opened it's doors early in the summer to fill a void in the central Wisconsin region of the state.
After exhaustive market research, planning and logistics, Richard Adams, CIO and Co-Founder says that the company identified a market ripe with opportunity to work with small and medium businesses that historically have had neither the knowledge nor the access to an affordable data center where their mission critical server equipment, data and other infrastructure devices can be housed and operated.
Jamie Michael, CEO and Co-Founder commented, "I truly feel our mission statement says it best when it comes to why we are here and what we're doing – we founded CyberOne Data to positively affect the surrounding communities with affordable, scalable, and reliable data technologies that improve, expand or enhance an organization's ability to succeed".
A special thanks to the Heart of Wisconsin Chamber of Commerce for planning and executing the ribbon cutting ceremony.
About CyberOne Data
CyberOne Data is a privately owned, Tier 2 data center located in the south, central region of Wisconsin. With colocation racks, dedicated servers, backup and disaster recovery services, it's uniquely positioned to offer SMBs affordable ways to operate their systems and infrastructure from the secure confines of a bona fide data center. The strategic placement of the data center takes advantage of a low-risk, natural disaster area with low average annual temperatures that assist cooling operations and help reduce operating costs.